Series 1531
Overview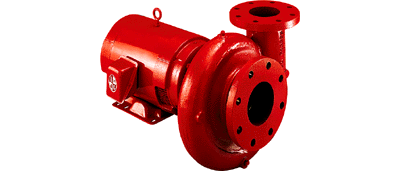 Design Features

End suction, close-coupled, foot-mounted pump available in 1-1/4'' through 6'' sizes. Motor size 3/4 to 50 HP at 1750 RPM, 2 to 60 HP at 3500 RPM. Available in bronze-fitted, all-iron and all-bronze construction with flows to 2300 GPM, heads to 400 feet. Close-coupled, space-saving economy plus rugged construction make the Series 1531 an ideal selection for a variety of horizontal and vertical mount applications. Available with the B&G standard self-flushing Carbon/Ceramic mechanical seal in 175# working pressure design.
Typical Specifications
Back pullout design allows ease of maintenance.
Self-flushing mechanical seals.
Aluminum bronze shaft sleeve.
Enclosed, balanced impeller for quiet, vibration free performance.
Heavy duty cast iron volute construction for 175 PSI working pressure.
Jacking bolts provide ease of volute disassembly.
Gauge tappings.
Hydrostatic testing of each pump is standard.
Applications
Hydronic heating and cooling systems, general service, cooling towers and industrial uses.