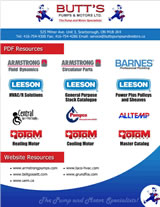 View our Product Catalog here.
Armstrong Pumps has pioneered an uncompromising range of products for customers in residential, commercial and industrial markets. From the very beginning, the Armstrong name has been a benchmark for quality in design, engineering and manufacturing.
Learn more...

Barnes Canada serves the diverse needs of diverse markets for fluid handling equipment throughout Canada. All of the CP&S brands - Barnes Pumps, Barnes Pressure Systems, Burks Pumps, Crown Pumps, Prosser Pumps, and Weinman Pumps - are sold and serviced through Barnes Canada. Learn more...