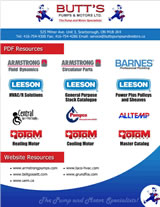 View our Product Catalog here.
Armstrong Pumps has pioneered an uncompromising range of products for customers in residential, commercial and industrial markets. From the very beginning, the Armstrong name has been a benchmark for quality in design, engineering and manufacturing.
Learn more...

Barnes Canada serves the diverse needs of diverse markets for fluid handling equipment throughout Canada. All of the CP&S brands - Barnes Pumps, Barnes Pressure Systems, Burks Pumps, Crown Pumps, Prosser Pumps, and Weinman Pumps - are sold and serviced through Barnes Canada. Learn more...

Grundfos AMD, AMG, AFG - Mixers and flowmakers
FEATURE AND BENEFITS

Wide range of flexible installation accessories
Easy to maintain and service without use of special tools
Electronic leak sensor in gearbox/shaft seal housing
Shaft seal protected against abrasive materials
Self-cleaning stainless steel or polyamide propellers.

| | |
| --- | --- |
| Liquid temp.: | +5°C to +40°C |
| pH value: | 4 to 10 |
| Axial thrust | 160 to 3931 N |
| Max. dynamic viscosity: | 500 mPa s |
| Max. density: | 1060 kg/m3 |
| Max. Instal. dep. | 30 m |




APPLICATIONS

The mixers and flowmakers are designed for mixing, i.e. homogenization and suspension,
of liquids in

Municipal wastewater treatment systems
Industrial processes
Sludge treatment systems
Agriculture
Biogas plant

The mixers and flowmakers are equipped with propellers made of stainless steel or composite material with a diameter between 180 mm and 2300 mm and a rotation speed between 22 min-1 and 1400 min-1.